Connect & Glow: 2020 Just Plain Folks Awards - Best Self Help Album
Connect & Glow YouTube Playlist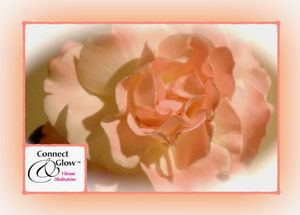 Music~Meditations~Workshops~Healing
Connect & Glow: Releasing Anxiety  An 8 1/2 minute guided meditation. Recorded at the mouth of the Coquille River overlooking the Bandon Lighthouse with   the waves of the Pacific in the distance. It only seemed right to end the video with a recording of my piano piece, "Lama Kuhikuhi," Hawaiian for "beacon."
The Connect & Glow meditative exercises quickly bring participants to a deep connection with their inner source of vibrant well-being. The exercises are inspired by ancient Eastern wisdom and modern quantum physics, which grew out of experiments with visualizing the energetic stimulation of the limbic center of the brain in an effort to heal depression, and has gone way beyond that as a path of healing and well-being, addressing topics such as forgiveness, releasing anxiety, inner guidance, and more. As a composer, pianist, and spiritual seeker Kate is uniquely qualified to understand - and to help others understand - life as vibrant aliveness. Through sensitive attunement to energy, all life experiences - joy,  adversity, stress, loss, success - can be powerful inspiration for personal growth. This self-healing technique is suitable for beginning as well as seasoned practitioners. We begin with Connect the Dots, which is followed by Being Glow, adding a few dots, or energy centers, and explore the qualities of each center. Tuning the Dots enhances the release of patterns of tension and increases the sense of opening and expansion. Following that is Working With the Energy, where we explore different topics; the deep relaxation and openness helps the release of patterns of tension, and supports personal growth.
Working With the Energy topics:
Connect & Glow Ho'oponopono - make right/forgiveness of others
Spring Cleaning/I Forgive Me  - releasing inappropriate coping mechanisms (ICMs) and replacing with divine expressions of life force energy (DELFEs)
Hoku Pa'a: Inner Guidance
Simply Being
Spiritual Warrior - What Do I Stand For?
All Heart
Be Still and Know That I Am God
The Divine Masculine
Immune Tune
In Harmony
Earth Day
Inner Child of Wonder
Releasing Anxiety
The Connect & Glow Musical Meditation CD is available for purchase on the BUY MUSIC page.
Download a free copy of Brain Glow from the LISTEN page. Brain Glow is the original Glow technique, developed as a method to heal depression. This track will always be free on this site - I want anyone who is experiencing depression to have an opportunity to heal.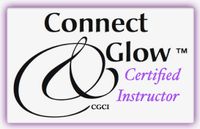 TRAININGS ~ Become a Connect & Glow Certified Instructor (CGCI)
YOGA TEACHERS incorporate Connect & Glow into yoga classes to facilitate inner connection offer stand-alone Connect & Glow presentations     
THERAPISTS - HEALING FACILITATORS - MEDICAL PROFESSIONALS
An outstanding tool for healing and recovery -  a versatile modality, from Quick Glow for on-the-go moments, to deep immersion in Working With the Energy.
REHABS
A meaningful part of the solution… What causes addictive behaviors? When we experience discomfort we want to change how we feel, and we often turn to less-than-healthy methods to change our feelings. Connect & Glow offers a simple and meaningful approach which provides immediate relief, as well as ongoing, long-term healing. A regular Connect & Glow practice creates a reference point of inner connection. Connect & Glow is a "gateway" meditation, opening the door to deeper life meaning and understanding.
CGCI Registration is $97 for the twenty-one day course (self-study materials provided), and includes one private session with Kate. Discounts are available for multiple registrations. Final testing and certification is an additional $33. After certification, a CGCI is eligible to apply for the CGCI+ certification, which includes Working With the Energy training. Register by paying here (PayPal, $97):
Final certification:
TMDR: Tapping Movement Desensitization and Reprocessing
The moment you notice attacking thoughts or feelings, apply TMDR: tap back and forth across your collarbones, between your shoulders. It combines EMDR (Eye Movement Desensitization and Reprocessing) and EFT (Emotional Freedom Technique, also known as Tapping). TMDR allows the energy to flow through, rather than spiraling out of control, or getting lodged/stuck. Enhanced by putting the thumb and fingers of the non-tapping hand together and placing them on the solar plexus while you tap. Four minute demo: